Got a bunch of bananas? Try these 5 healthy and delicious recipes
Make popular meals for both adults and kids with one bundle of banana!
It is the most favorite fruit among all the fruits of the world, both adults and kids equally love it. It comes in many varieties and different sizes. Mostly it is available in markets around the whole year. It is amazingly nutritious and it is a good and healthy source of vitamin B6 and vitamin C. It is rich in manganese and dietary fiber. It's got a funny name -
You must have guessed it - Bananas!
Vitamin B6 improves red blood cell production and metabolize amino acids, carbohydrates, and fats and provide energy. It removes toxic chemicals from the body and the major benefit involves the maintenance of a healthy nervous system.
Vitamin C protects the body from tissue damage and helps the brain in serotonin production, a hormone which helps in sleep cycles and the perception of pain and stress. Manganese protects our skin cells from radical damage. Dietary fiber helps treat constipation and maintain a healthy Gastrovascular system.
Bananas help in the improvement of our cardiovascular health and decrease the chance of heart attack or stroke. It is the best source of energy because of three sugars, sucrose, fructose, and glucose, and provides fat and cholesterol-free energy to our body.
Here is a list with recipes of delicious and healthy meals that you can make with a bundle of Bananas and keep your body healthy by providing it all essential nutrients.
This recipe is extremely simple and only needs two ingredients. Bananas and eggs. Best for breakfast and a good healthy start of a day. It is a super quick recipe; need a minute to shift from the bowl to your plate. Isn't it amazing?
Let's start making it.
Take two bananas and mash them in a bowl. Whisk two eggs in a separate bowl with a fork. Now add eggs in mashed bananas and add one teaspoon of sugar in this mixture and mix them well. Now add one teaspoon of butter in a pan and melt it. When it completely melts, take a small portion of the mixture and place it on melted butter. Now wait a few seconds to get it brown and after it turns its side and waits again for the brown color. Now shift your delicious and healthy Banana pancake to your plate for a yummy stomach treat.
Banana bread comes in those classic American comfort food that fills the whole house with warmth, and everything becomes better. It has some magic in it.
This recipe is again simple and with easily available ingredients. You can easily make Banana bread from wheat flour and sweetened with maple syrup or honey; the choice is yours.
Let's make it
Preheat oven to 325 Fahrenheit degrees (165 degrees Celsius) and grease a normal bread pan.
In one bowl, beat the 1/3 cup coconut oil and 1/2 cup honey together. Add 2 eggs and beat well, then add 1/2 cup of mashed bananas and milk(as required).
Add 1 tsp baking soda, 1tsp vanilla, 1/2 tsp salt, and 1 tsp cinnamon powder, and blend all of them. Lastly, add 1 and 1/3 cup of flour and gently fold them in now.
Now pour the batter into a greased bread pan and sprinkle with cinnamon.
Bake it for 55 to 60 minutes, or until one toothpick inserted into the center of the bread comes out completely clean. Let the Banana bread cool in the bread pan for 10-15 minutes, then transfer it to your wire rack to cool for 25- 30 minutes before slicing it.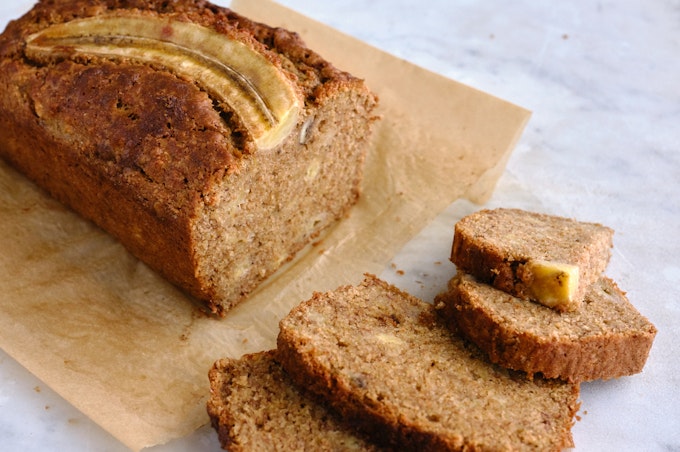 Another yummy meal, including bananas, is Strawberry Banana Crepes. You can make the crepes the night before and refrigerate them with sheets of waxed paper in between and then eat them in the next morning. The recipe is as follows:-
In a large one bowl, combine the 1 cup flour, 1tbsp sugar, 1/2 tsp cinnamon powder, 1- 1/2 milk and 2 large eggs. Cover the mixture and refrigerate it for 1 hour.
In a nonstick pan, melt 1 teaspoon of butter. Stir the batter and pour about 2 tablespoons of batter into the center of the pan. Cook the batter until the top appears dry, then turn it and cook again 15-18 seconds more. Shift it to a wire rack.
Repeat this process with the remaining batter, add more butter to a pan. When they cool down, shift crepes on paper towels with sheets of waxed paper in between them.
In one bowl, blend the filling ingredients(8 ounces whipping cream and ½ cup of sugar) until they become smooth. Spread 2 tbsp on each crepe; roll-up. Place these rolls on a plate and garnish them with sliced strawberries and Bananas and a little whipped cream.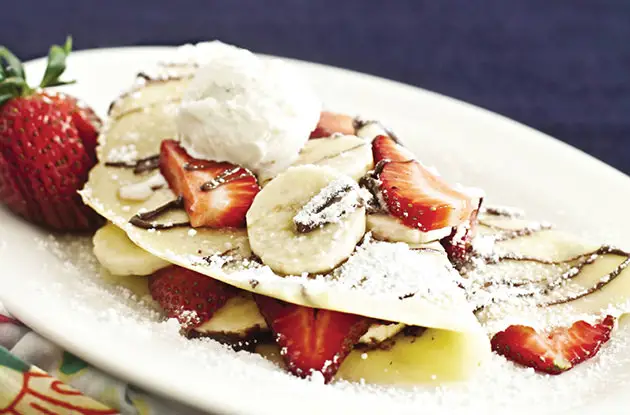 4)Banana Cream Pie
Mouthwatering recipe for the Banana cream pie is as follows:-
In one pan, combine 3/4 cup sugar, 1/3 cup flour, and 1/4 tsp salt; stir all this in 2 cups whole milk and mix them well. Cook it over medium flame until the mixture becomes thick.
Remove it from the flame. Add 2 egg yolks and again let it boil and then remove it from flame. Add 2 tbsp butter and 1/2 tsp vanilla and let it cool.
Add sliced bananas into crust and pour filling over it. Let it cool for 1 hour. Place it in the refrigerator. Garnish Banana cream pie with whipped cream and sliced bananas.
5)Banana Cereal pops
A very quick recipe for Banana is Banana Cereal pops. Let's have a look at it.
Place 3/4 cups strawberry yogurt and 2 cups fruity pebbles cereal in separate large bowls. Now insert pop sticks through the sidecut of 6 medium-sized bananas. Now dip bananas in yogurt and then roll the bananas in cereal and coat them well. Shift them to butter papers.
Refrigerate them for 1 hour and then transfer them to the freezer for two hours.
These are some of the easiest healthy Banana recipes for your healthy life. Stay healthy, Stay happy.